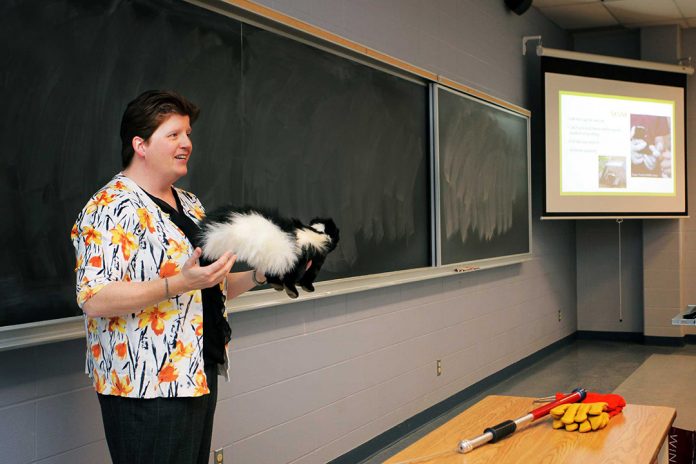 Keri Semenko, a professor in the Animal Care program at Durham College, has learned the value of a life spent with animals.

Semenko, who has been teaching her students remotely for the better part of a year now, spent most of her childhood with her grandfather working on his farm in Saguenay, Que.
Semenko's grandmother had a vegetable garden and Semenko would spend her summers and part of her winters there.
She did things to help like chop wood, assist with the animals and help with her grandma's garden.
Semenko learned a lot from her grandparents.
"(They) were quiet people – and so I think they taught me the value of listening and absorbing life instead of racing through it. Our world moves very quickly and I often think that most people spend their time reacting to things and never even knowing what is happening," Semenko said.
According to her fellow coworkers, Semenko has applied that philosophy to her work.
Megan Koressis is an instructor in the Animal Care program. While she's only part-time, she has still seen firsthand what Semenko is like.
"She likes to set up little get-togethers. There's usually a lunch or dinner, or some kind of hang out for all the program teachers and admin to come and just relax as a team. You know, the usual sharing of stories, venting frustrations, and general catharsis that happens amongst faculty after a long and trying semester," Koressis said.
This has also translated into Semenko's approach as a teacher.
Last year, Semenko was selected as the Program Chair for Humane Canada's National Animal Welfare Conference, which is the largest conference of its kind in Canada.
This was the first time someone outside of the organization was selected.
When she is actually teaching, Semenko's approach is to let the students do their thing, especially when students do not turn on their cameras.
"You know, I don't want to twist people's arms about it. I understand some people are concerned about privacy and just don't feel comfortable and I'm OK with that," Semenko said.
With the animal care program being hands-on, there have been challenges with the transition to online.
However, Semenko is handling it with a positive attitude.
"So I had to investigate and figure out a different option because I live in a rural area so it's not as easy as it is for people who live in the city. So yeah, it was not the easiest transition, but I think it has actually brought about some interesting changes for the program and the redevelopment of some courses gave us some opportunities that we maybe hadn't thought about before, so it was a bit of a bumpy start but I think it's going better now overall," Semenko said.
Semenko currently has a rescue dog and she appreciates the time she can spend at home.
"I'm not gonna lie, I like being home with my dog in some ways. It's been nice because it's made my life really flexible in terms of being at home but it's difficult because my students don't engage that much online so they don't turn their cameras on. I don't see them, they don't talk much."
Semenko has taught at Durham College for 10 years.
Semenko will be teaching online again in January and she won't be back on campus until September.
As to why she wanted to work at Durham College and teach in the animal care program, Semenko said it's a matter of convenience.
"I specifically had an interest, you know, a lifelong interest in teaching animal care, but my animal welfare interest goes back to my childhood and I worked in the industry, and the opportunity came up. You know, to be a professor in this program, and was a pretty good fit for me in terms of what I wanted to do at that time. And so that's how I ended up teaching in it," Semenko said.
For her future plans, specifically retirement, Semenko is hoping to live on a beach somewhere.
"I'd like to sit on a beach or something in my retirement, so I'll probably keep busy doing things, and I'll probably still have pets when I'm retired, so probably still be out walking a dog and that sort of thing," Semenko said.
She currently has a dog and four cats.