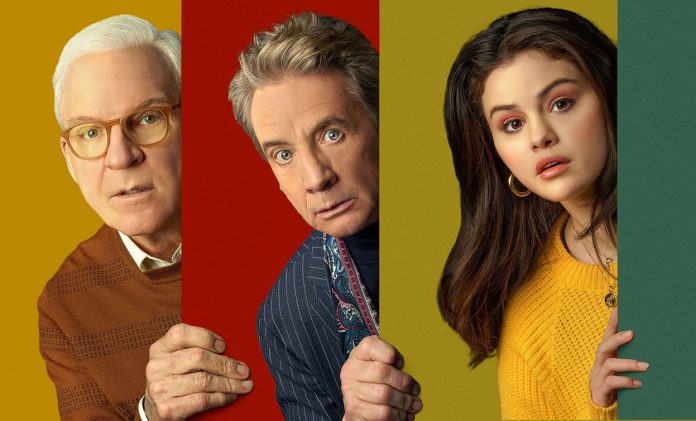 Only Murders in the Building brings relatable characters and a comedic spin to the typical murder mystery show.

This Disney+ show follows three residents of an apartment building, Selena Gomez, Martin Short, and Steve Martin as they create a podcast about a murder in their building.
Selena Gomez hasn't played a main character since 2012 when she played Alex Russo in Wizards of Waverly Place. Gomez was diagnosed with lupus in 2015 and took a step back from her career. She hasn't toured an album since 2016. Only Murders in the Building is a welcome back for Gomez.
The show aired on Aug. 31 of this year and has ten episodes.
The first few episodes introduce the main characters: Mabel, Oliver and Charles. They meet in an elevator where Oliver compliments Mabel, who wants nothing to do with him and Charles. This is where viewers first see Tim Kono, the murder victim.
As the show continues, viewers learn more about the main characters. Charles Haden-Savage was a former TV star who is now divorced, living alone and lonesome. The podcast they create is the most excitement in Charles' life in a very long time. As the show goes on, Charles' quality of live improves because of the podcast.
Oliver Putnam is a former theatre producer, with many failed ideas. He lives alone with his bulldog Winnie, who is seen many times in a baby stroller pushed by Oliver. Oliver gets along with everyone in the building which helps him, Charles and Mabel with the podcast. Despite being liked by everyone in the building, he is facing an eviction and this podcast's success is important for him.
Mabel Mora is the youngest of the three. She lives in her aunt's apartment. Oliver and Charles have many hilarious scenes trying to figure out cool, young ways to contact her. She has a very strong backstory that connects her with the murder. Every episode leaves the viewer wanting to know more about her and her story.
Each episode ends in a cliff hanger making viewers wonder what's going to happen to these characters.
The three hosts create an elaborate, and slightly insane, mood board mapping all their suspects. Musician Sting makes a cameo appearance and is a suspect because he was rude to Oliver's dog in the building's elevator.
As each episode progresses, viewers find out more about each suspect and the funny but somewhat believable backstory as to why they're considered a potential suspect. Did the one resident kill Tim because Tim hated his cat, which was also found dead?
Charles, Oliver, and Mabel become insanely close with each other and they fill roles each one needs in their own lives. They complement each other wonderfully and face personal struggles normal people go through: divorce, money problems and losing loved ones. Somehow, they manage to do all this and solve a murder in a comedic fashion.
Anyone looking for an easy watch with charming characters needs to check this show out. Only Murders in the Building is a show for all ages.