Vraj Maniar is very familiar with the International Education Office at Durham College (DC).
The third-year computer systems technology student used the office when he first arrived at DC from his home country of India. Now he is a work-study student in the office.
Before the COVID-19 pandemic, Maniar used to see lots of students from different cultures and background coming into the international office. When the pandemic started that all changed as everything turned online.
Now working at the office for his work study, Maniar has noticed a few differences due to COVID-19.
A lot of the workers are alternating between coming into the office to work and staying at home, he said.
They also recommend students utilize available online services, which includes a live chat to get questions answered.
Maniar reflects on his decision to come to DC and remembers the help he received.
"The Durham College representatives in my country were very helpful to me when I first took interest in DC," said Maniar.
DC's Manager of International Recruitment and Admissions, Aldo Mendizabal, 49, and his staff are back in the office part-time.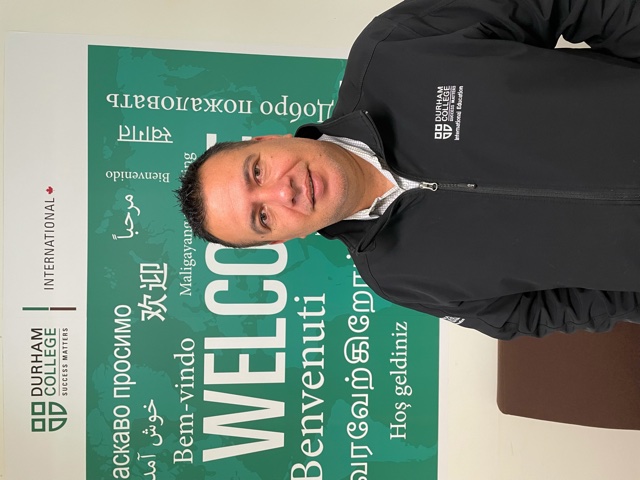 The goal of the international office is to help their students reach their full potential and dreams, he said.
"We take care of students from the moment they take interest in Durham College to the moment they graduate," said Mendizabal.
Despite the pandemic, DC is still an educational destination of choice for international students.
About 1,200 new international students have enrolled at Durham as of September, he said.
"We have to make sure everyone is happy and that they enjoy their time here in Canada," said Mendizabal.
He explained not much has changed in the process for international students coming to Canada, but not all students are successful in coming to DC.
"Every year you have a number of visas refused, and students refused by Immigration Canada," said Mendizabal, "Which happens every year."
Mendizabal and his team are now making sure their students have access to vaccines and rapid testing, which is required to be able to attend classes and events on campus.
During the beginning of the pandemic the services of international offices were available virtually but with the college now accessible to students, they are open for business on campus.