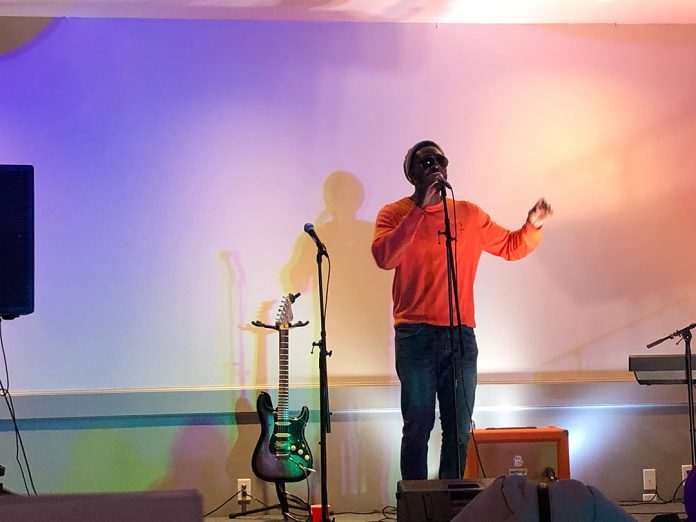 Singers battled genres at a unique competition during Oshawa Music Week (OMW). Performers sang in a different genre than their own at the Genre Swap event on April 5.

Musicians from across Ontario came to perform at the Oshawa Shrine Club and share their talent by battling with their voices to see who was the best performer of the night.
Two singers at a time competed head-to-head in front of a full audience, each singing in the other's genre.The winner of each round would then compete against each other in a final round until there is only one winner.
Sarah Thompson, a pop singer from Toronto who released her own EP Thrive, performed two original songs from that EP.
Thompson said music is something that has been a part of her life for a long time and a career that she has grown into.
"I did a lot of music theatre, I sang in choirs. I wrote a lot of poetry and then from high school I started writing original songs and ever since then it's been a non-stop flow of music," she said.
The performers that night said being able to showcase their talent at an event like this is something really important.
"I'm blown away by the other talent," said Thompson. "Vocally, musically, stage presence – all of the performers just have a high talent. It's pretty amazing to see all of these talented people in one room and I get to perform with them."
Finalist, reggae singer Aion Clarke performed many songs that night to branch out his talent and sing from artists that he loves and dive into different genres.
"I always love when people support music in our city whether it's in Oshawa, Toronto or the GTA," said Clarke. "I am a musician and a lot of my friends are (also) so seeing an event like this with other musicians, that's my love so it's very special."
By the end of the night, Clarke and Donte Brown battled with their voices. Clarke performed a famous Bob Marley song and Brown performed a song from the musical Waitress. The audience chose the winner and Brown ended the night by taking the trophy home.
"For it to be the first ever trophy that I ever won in my life I am just happy that I did a competition where I can win something," said Brown "I wasn't ready before but I said let me try something so I feel excited and happy to have won."
The singers competed in four different genres: pop, R&B, rock and reggae.