Although Conlin and Thornton Roads near the roundabout in north Oshawa were temporarily reopened in January, the different speed limits between the two remained unchanged.
While the difference is not substantial, some residents who frequent the two roads continue to question the decision to reduce the speed limit a decade ago.
That's when the speed limit on Conlin Road was reduced by 10 km/h, changing the maximum limit from 60 km/h to 50 km/h.
However, Thornton Road North, which intersects Conlin Road, continues to have a posted speed limit of 60 km/h.
Conlin Road, despite the lower permitted speed, boasts a paved shoulder, adequate road conditions and four car lanes once the road opens up at Stevenson Road North.
Thornton Road North, on the other hand is only two lanes wide, riddled with potholes and the shoulder is chipped and cracked for the duration of the road.
This difference has posed a problem for Will Prentice, owner of Captura Photography and Imaging. He also works for Cyclelife, a bike shop in Pickering and Port Perry.
Prentice has lived in Whitby for 25 years and has been a cyclist for "much longer than that." He is an example of why the speed limit difference between Conlin and Thornton Roads is not solely a motorist's issue.
He says the Conlin and Thornton Road disconnect is "a small example of a much larger issue" in cycling infrastructure.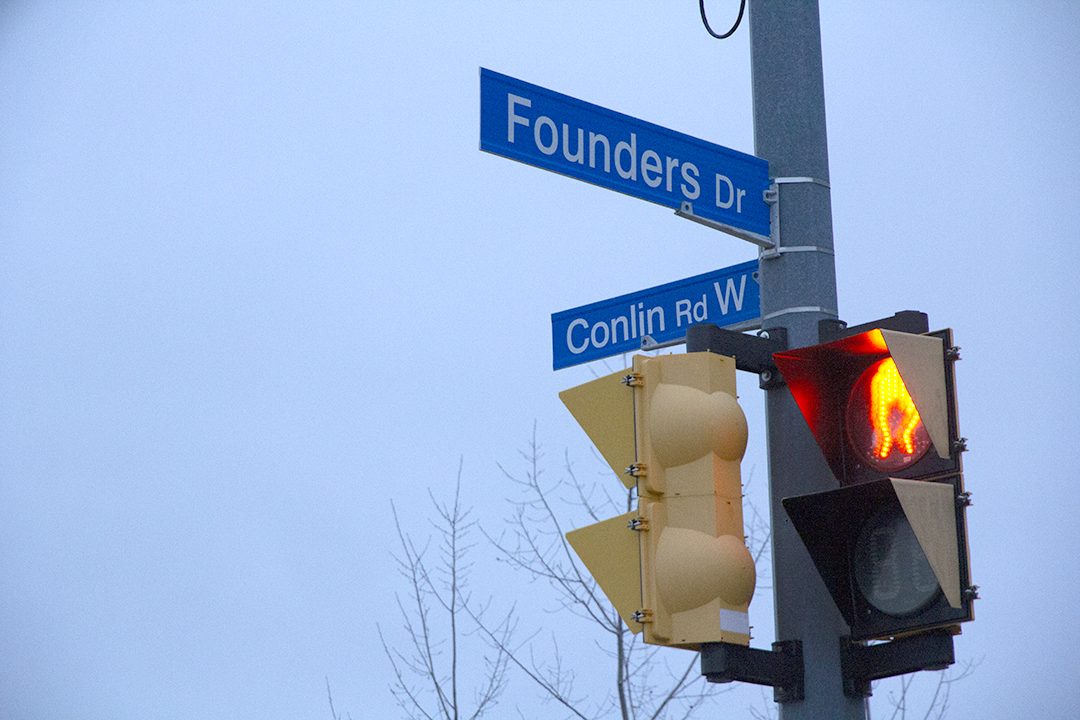 "Oshawa has made probably one of the most dangerous situations they could for cyclists," Prentice says, referring to the Thornton Road North entry into the roundabout. "As a cyclist, you have to be very aware. As a motorist, you have to be extremely aware. What makes it dangerous though, is the exits."
Prentice says these types of problems extend all over the region.
"They've created a real hazard there," he says. "And this seems to be typical of road design all throughout Durham Region. It's not just Oshawa, I've been all over the province riding and Durham is by far one of the worst in that way."
The Chronicle received multiple comments in response to a social media post asking local residents about their experiences and opinions related to these two roads.
"Why are residential streets within communities 50 km/h which is the same as Conlin?" Christina Riddell-Ellis asked.
"Thornton northbound from Taunton was closed for most of a year for infrastructure but the road is still in poor condition – disappointing," said Cathy Groom.
The initial reduction in the speed limit on Conlin Road began when the road was widened from two lanes to four. The road is also a hot spot for Durham Regional Police Service cars looking to tag speeding drivers.
Prentice says proper change to him involves better planning from the start.
"There's such a disconnect between the three major forms of infrastructure needed," he says. "(The region) needs to have somebody in place who understands all of this, who can kind of point out the mistakes before they spend the hundreds of thousands or millions on final design projects and construction."
Students from Durham College and Ontario Tech University often use Conlin Road to access the campus. They have similar opinions when it comes to the speed limit difference as well as the road conditions.
"I kind of agreed with the 50 (km/h) over here when it first happened, but like farther down the road, it doesn't make sense because it's more country. There are no houses, there's no anything. I'd prefer that it was a 60, honestly," said Regan Fair, a student in the Music Business Management program at Durham College.
The Chronicle has contacted multiple regional and city councillors, Service Oshawa and the region for answers on why the speed limits remain different despite the varying road conditions. No one has been made available for an interview.
Service Oshawa says city staff consider certain "roadway characteristics" when deciding on appropriate speed limits. These include road jurisdiction, collision history, speed data collection analysis and intersection sight lines among others, according to an email reply.
The intersection of Conlin Road and Thornton Road is set to be closed again this year to undergo further construction.
For more information, visit the Durham region's Public Works Project page.