Jake Green became a father in the second year of his English major at Trent University in 1987. He returned to complete his degree in 2021.

When Green attended Trent Durham in the '80s, the campus was where Ontario Tech University is now.
Now, he drives daily to the new campus at Thornton and Dundas in Oshawa and admires what he calls his new "favourite" building — the Trent Durham main campus, which used to be St. Michael's Catholic Elementary School.
As he walks through the campus alongside fellow students, with a coffee in hand, he usually wonders how times have changed at Trent University. The new campus is "insane," as he describes it.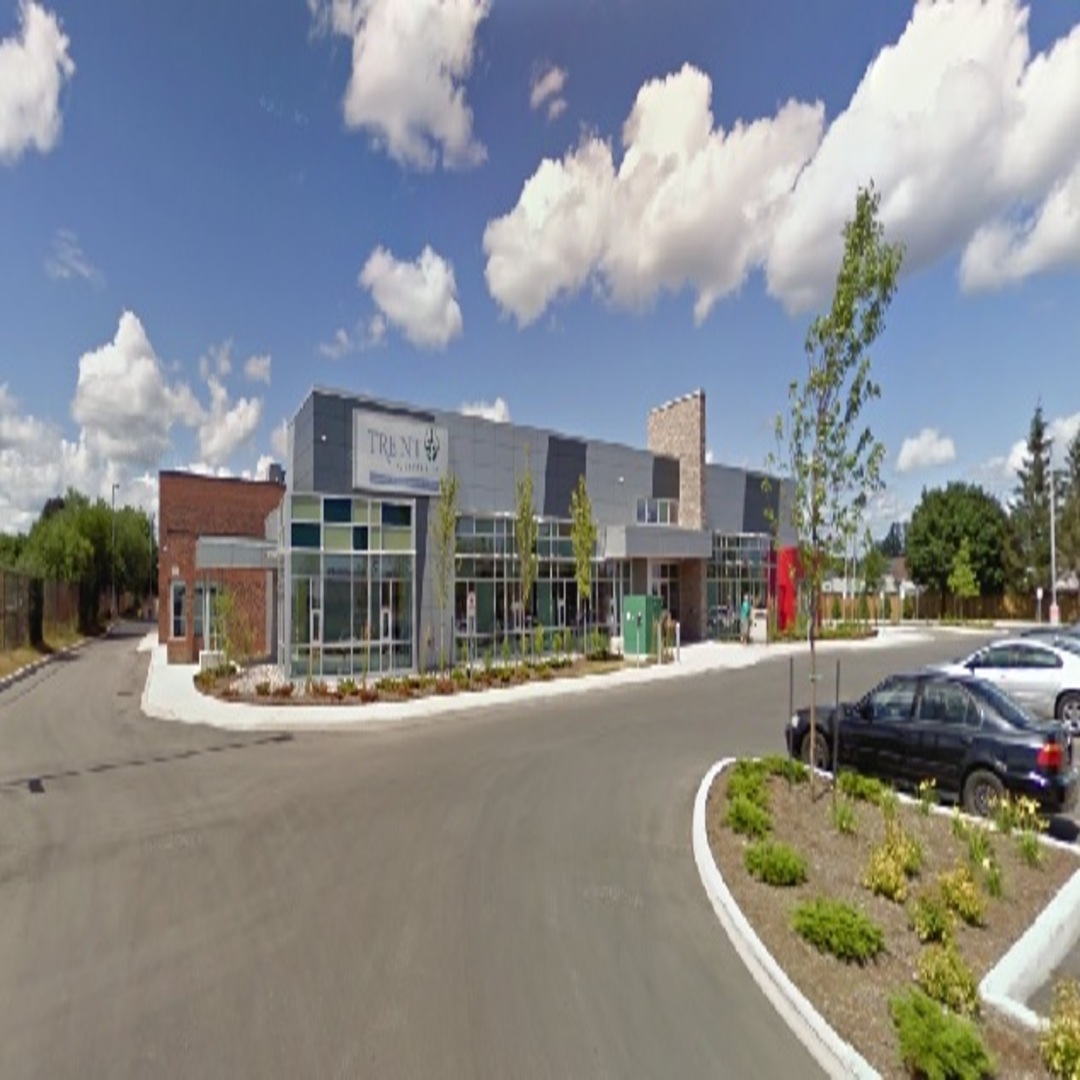 Trent University, Durham campus, is a new community that requires a "lot of work," said the Dean, Scott Henderson.
After many years of uncertainty, Trent University welcomed students to a newly established campus in 2010. Today, Trent University Durham accommodates more than 2,600 students but a decade ago, it used to be 1,700 students.
In its early years, Trent University was known for its innovative interdisciplinary approach to teaching and learning. The university was one of the first in Canada to offer undergraduate degrees in Environmental Studies and Native Studies, and it continues to be a leader in these fields today.
Trent Durham is known for its small class sizes, close-knit community, and a strong focus on experiential learning and community engagement. The campus is home to several research centres and institutes, including the Trent Centre for Aging and Society and the Institute for Critical Studies in Improvisation.
Henderson, who has been the Dean and Head of Trent Durham since 2017, believes this campus has had a long, complicated history.
While Trent University Durham campus was only opened in 2010, Trent University has been delivering post-secondary education in Oshawa for almost 50 years.
In various settings, Trent students could take university credits in the Durham Region as many chose not to drive an hour or more to the main Peterborough campus for regular classes.
In the late '70s, Trent started to offer courses at the St. Michael's Catholic Elementary School location on Thornton, south of Dundas St. East in Oshawa. This allowed students to receive those credits. However, there were only evening, part-time courses then. Soon after, Trent University began using some facilities at the Durham College campus.
Eventually, Trent was forced to find a new home as Ontario Tech University took over the campus. This was due to Ontario Tech aligning better with what Durham College was teaching, according to Henderson.
The City of Oshawa supported the addition of the Trent campus by reducing the price of the purchase of the elementary school. Dean Henderson notes they have been "extremely supportive of this campus."
Providing the Durham Region with the ability to access university courses in closer proximity has allowed many students to succeed. However, expedited university degrees were nearly impossible to achieve before the campus opening.
When asked why this campus came to be, the dean of Trent University Durham notes: "It seemed like a way of meeting the needs of the community."
Dean Henderson says: "There was no university here [in Durham Region], just Durham College."
Colleges and universities differ from one another. The differences are more based on the career path a student chooses rather than their level of brilliance.
Ontario colleges are outcomes-based academic institutes that help students advance their knowledge and skill set in various fields, including trades, technology, applied arts and more. Colleges focus on hands-on and career-oriented training to support the individual for direct employment in that field.
Universities in Canada are designed for individuals looking to study academic and professional programs and receive a degree in accordance with the field. Students must select a major and minor in which they will learn. The programs studied at universities could include dentistry, law, psychology, teaching, and more. Compared to colleges, universities are more theory-based learning.
Before the Trent Durham campus opened, the courses that were delivered included psychology, History, and English, but now, Trent Durham offers 36 courses, allowing students to complete their programs full-time at the Thornton Road campus.
In recent years, Trent Durham has expanded its programs and facilities, including constructing a new student residence and expanding its library and other campus buildings. The campus continues to grow and evolve, offering students a unique and enriching educational experience, according to Henderson.
"I'm happy I waited because now I can enjoy my education in a beautiful community and campus," Green said
Green believes that Trent Durham is better than the Peterborough campus because the Oshawa campus offers small class sizes and a close-knit community, which can provide students with a "more personalized and engaging educational experience."
Additionally, the campus' focus on experiential learning and community engagement provides students with unique opportunities to apply their knowledge in real-world settings.
Although Jake Green may have been unable to complete his studies in 1987, he could not be more pleased with how Trent has come to be today.
He says college would simply not lead him to the path he desired— a university degree would be the only way to achieve his particular success.
Green thanks Trent Durham for opening a campus where he can learn full-time at more accommodating times.