The Durham Lords women's rugby team completed a perfect rugby season, winning all 20 of their games, and taking home their first-ever sevens championship.
They scored a 17-5 victory over the Fleming Knights in the gold medal game of the Ontario Colleges Athletic Association women's rugby final this past Sunday.
This was the third time the team made it to the championship game. Durham College fell short to Algonquin in 2019, and to Humber in 2021.
"Comparing it to where we were last year, I think we're all very hyped up and excited to finally get the gold this year and to bring it home," said forward Emily Busse, who is in her second year with the team.
She said the coaches did a great job of keeping the team "humble" while teaching them the "rights and wrongs."
"Even though we had a great season, there were still a lot of aspects in our games that we still had to improve on," she said. "So, having our coaching staff there to remind us on what we had to work on for next time was very beneficial."
While the women's team celebrates, the men's rugby team looks to win gold themselves as they head back to the OCAA Men's Rugby Championship game for the third time in four seasons.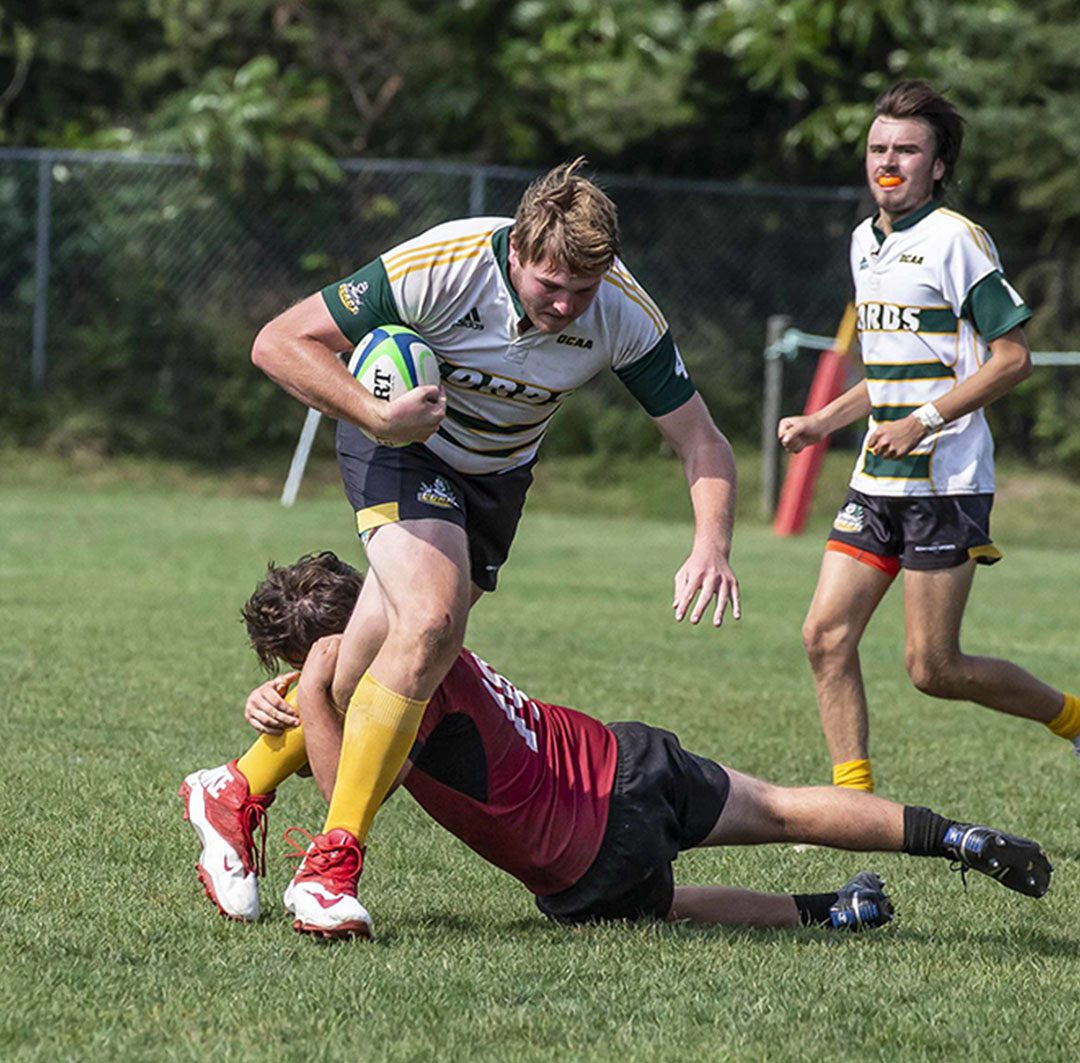 The Lords beat the Sheridan Bruins by a score of 52-8 in the semi-final game last Saturday.
Second-year member Brendyn Beck said this is a step in the right direction.
"I certainly think getting to this point was a goal we had in mind, and now that we're there, we're going to continue to try and do what we do that's made us successful so far," he said.
The team won gold in 2018 and 2019, both times against the Georgian Grizzlies. This year, the Lords will face none other than…the Grizzlies.
It was Georgian who knocked out the Lords last fall in the semi-finals, leading to Durham taking home bronze.
"All credit to them, they've got a great program going, as do we," Beck said. "It'll be a good one Saturday. The boys are certainly looking forward to it."
He said continuity will be a key factor for the Lords.
"A lot of us (on the Lords) are familiar with each other as rugby players from our time playing club rugby in the summer," he said. "As well as the coaching staff having known us very well too, it really helps us put each other in the best situations to succeed."
Good team chemistry was also factor in the women's win, according to Busse.
"I don't know if it's just because I was a rookie last year and I didn't know everyone, but this year, our team dynamic was amazing," she said.
She said the communication and chemistry led to greater trust with each other.
"We all knew exactly what our teammates we going to do, we knew that if I miss that tackle then the person next to me will get that tackle," Busse said.
The men's gold medal game is this Saturday at 1 p.m. at Thompson Park.