Last June, Elliot Smith of Whitby travelled to Cork, Ireland to play rugby with the Oshawa Vikings. It was a first for him, and a first for them.
Elliot, 23, has autism and had never played rugby until last year. He is among the first players with disabilities to compete with the Vikings Rugby club.
They were in Ireland to compete in the International Mixed Ability Rugby Tournament, with the team being crowned second overall out of 24 teams. Mixed ability sports include players who are both able bodied as well as those with disabilities.
Now, Elliot is taking his experience from this summer's tournament and using it to tell his own story about the importance of mixed-ability sports.
His new children's book is called Mateo's Mixed Ability Match.
The book was written by Elliot and his mother Debbie over the course of nine months, the result of working collaboratively with her son.
"It took a long time. I would write a sentence and then I'd turn the laptop to Elliot and then he would write a sentence, and that's literally how it was written," Debbie says. "We each took turns and as you can imagine that takes a long time."
The book follows the character Mateo, a young man with special needs that represents Canada in the Mixed Ability World Cup in Cork, Ireland. By playing in a mixed ability system, Mateo is able to experience sports in a more inclusive way.
Elliot felt this inclusivity firsthand with the Oshawa Vikings, where they play a version of the game that is very similar to the original, complete with tackling.
Debbie says keeping those elements of the game intact is what mixed ability sports are all about.
"They're expected to play the sport like anyone else and in a lot of other leagues, there's a real protective layer," she says. "For him to be able to tackle was huge because a lot of the other leagues don't allow physical contact."
Malcolm Hooper, a former teammate who met Elliot during tryouts, says Elliot's personality perfectly suits his role as a storyteller.
"He speaks his mind and he's always so positive, he's not nervous to share his experiences," Hooper says. "He's here to pass on his lived experiences to others to take down those barriers he faced."
Although the story is a representation of Elliots's own personal experiences, the character Mateo is based on one of Elliot's best friends, his teammate in both his baseball and soccer leagues who has both a respiratory and a heart condition.
"Mateo is actually a mix of his real friend and Elliot. It's a character we made up of the two of them (together)," says Debbie.
Elliot says it was important to him to write this story in hopes that his own personal experience would inspire other members of mixed ability sports and spread the message of inclusivity in sports throughout Canada.
Despite being published just under a month ago, his wish is already coming true. Others are also opening up to the idea of sharing their stories and personal experiences.
Craig Zealand, a friend and teammate of Elliot's who has Down syndrome, has begun creating slideshows capturing his own story as a mixed ability athlete, and sharing them with the rest of the Vikings rugby team as a result of Elliot's book.
"It may not be a book and that's not the intent, but he's putting together something that he can share with other sports groups too," Debbie says. "Elliot and I, and the book we've made, is hopefully inspiring everyone on the mixed ability team to tell their stories and share them with other leagues."
Elliot held a book signing for Mateo's Mixed Ability Match on Nov. 5 at the Abilities Centre in Whitby. Elliot was also given the opportunity to read his book publicly for the first time during the event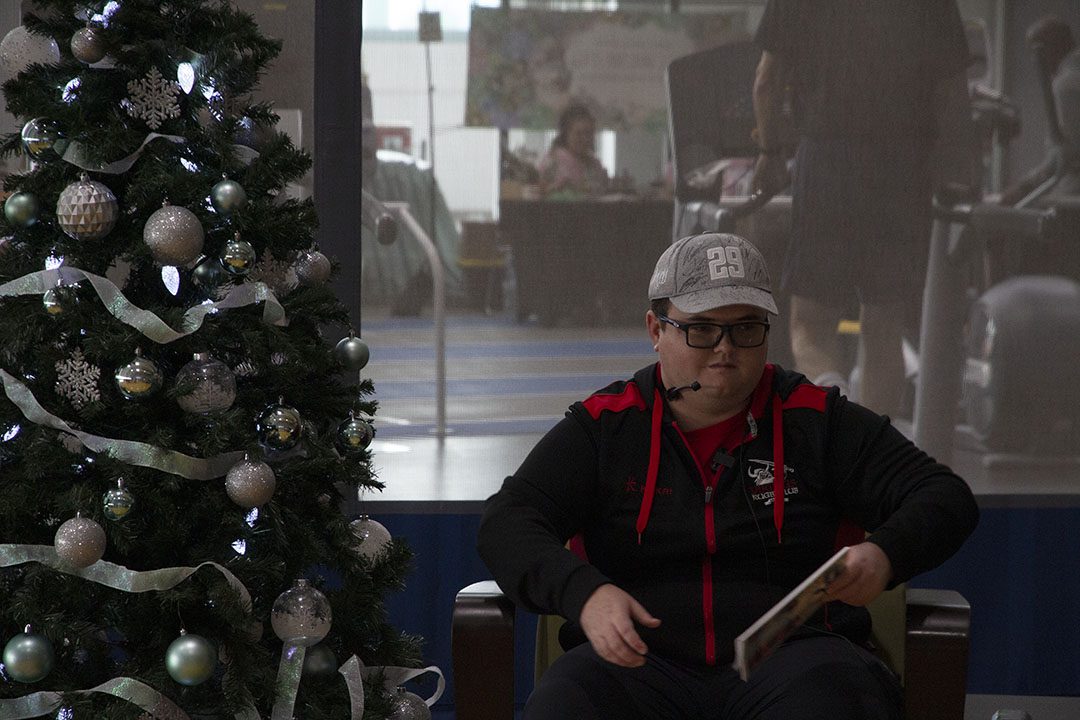 The book sold out at the event, with all proceeds going to Mixed Ability Sports Canada.
"Every single cent that I'm getting from the book I'm giving right back to the Abilities Centre so they can continue to help fund more training and bring more leagues on board," says Debbie.
As for the future, Elliot plans on publishing a series of mixed ability sports-based books as more leagues continue to pop up, with his next working title being Andrew's Archery Match.