Clouds filled the sky as biting winds violently blew yellow and blue flags. Shouts and car horn blasts filled the air. The cold weather did not slow down Oshawa's Ukrainian community which held another rally this past Sunday.
It is the tenth time members of the Ukrainian Canadian Congress (UCC) of Durham Region and other residents have stood on the Albert Street Bridge in Oshawa, between two Ukrainian churches, to raise awareness of the war in Ukraine.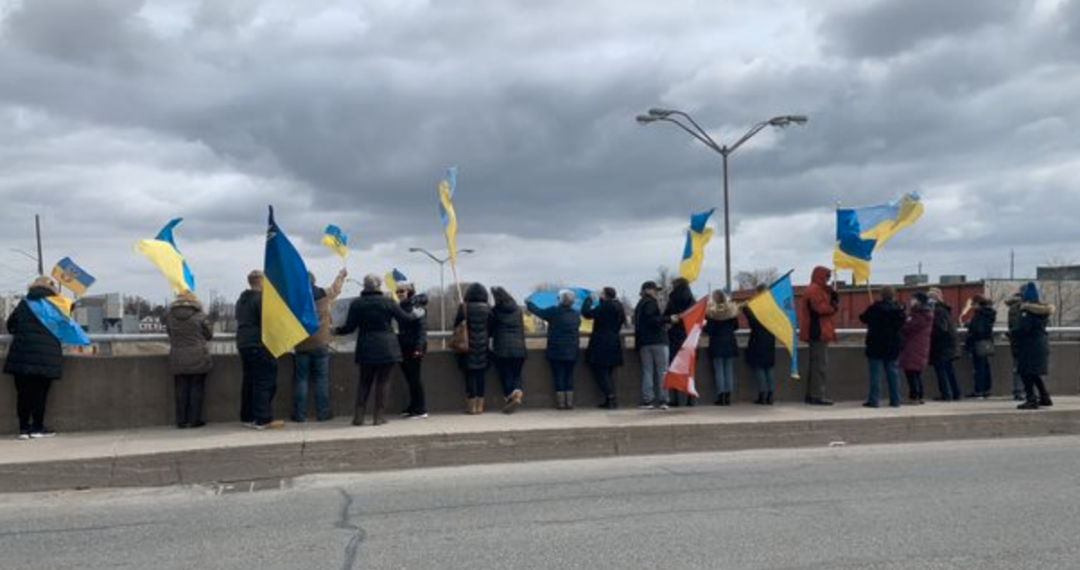 The rallies are held every Thursday and Sunday as Ukraine fights a desperate battle for its survival. Supporters said they are inspired by the strong resistance Ukraine has put up against the Russian invasion.
"I cannot believe that it's six weeks in and they're still holding off the Russians, and if they don't deserve support nobody does," said Larry Grabowsky.
Participants gave out Ukrainian flags to newcomers and held signs with slogans such as "Hands off Ukraine" on them.
Odarka Matyczak, one of the rally's organizers, said the invasion is not only an attack on Ukraine but also on its ideals.
"When the Russian army attacked Ukraine they attacked Ukraine's freedom, they attacked Ukraine as a peace-loving country," she said as she pinned a Ukrainian flag button on her jacket. "We will stand our ground and protect Ukraine."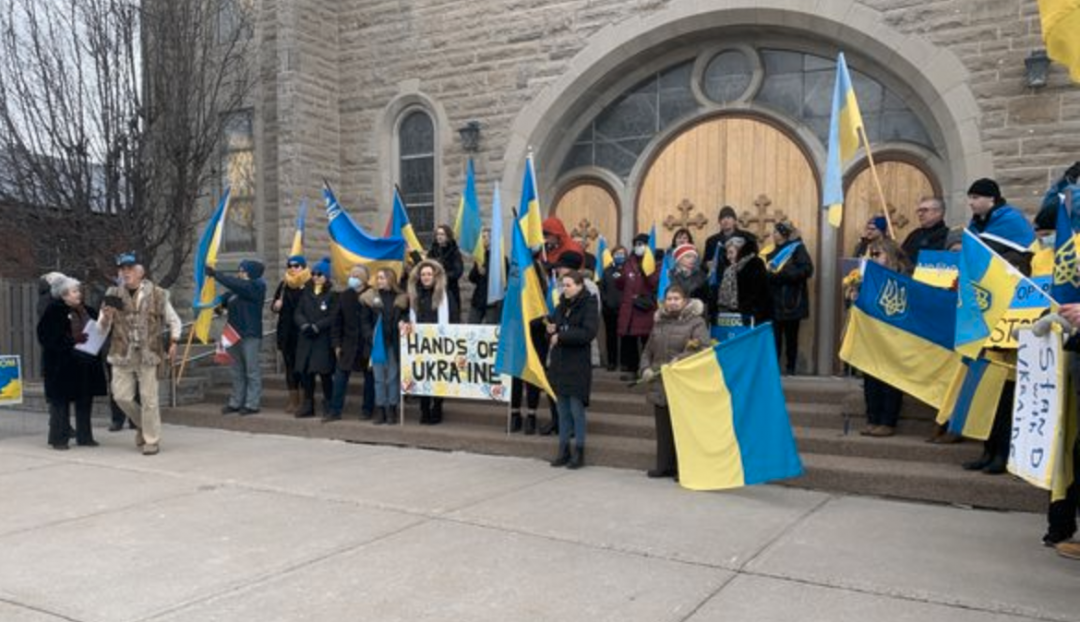 The rallies are one of the many ways the UCC in Durham Region is helping incoming Ukrainian refugees.
The organization has set up separate committees to help Ukrainians refugees with housing, food and clothes, according Kateryna Rohowska, the local head of the organization. It's also helping refugees find work and offering them mental health support.
Rohowska says the UCC of Durham Region has received a strong response from the local community.
"Lots of Canadians are calling us and asking, what can we do? They offer their house," she said.
Rohowska said the organization is also working with Oshawa's Royal Canadian Legion to collect clothing and other goods that will be sent to Ukraine.
The UUC of Durham Region has also received support from the City of Oshawa. Mayor Dan Carter says the city is working with the UCC and all levels of government to provide refugees with housing, work, health care and education.
In total, about 60,000 Ukrainians have applied for a visa to come to Canada, according to Rohowska.
Carter said the city will help refugees find employment by working with local companies to fill shortages in the labour and service market.
The city has also begun looking for interpreters and teachers who speak Ukrainian to educate child refugees while they are in Canada. Carter emphasized the importance of a school routine for the children.
"It's really important that when kids get here that they are able to have some type of normality," he said. "Getting them into school, meeting new friends, those things are really important."
Carter said he is "emotionally overwhelmed" by the "generosity" from the community since the invasion.
"In a time where all of us are struggling with the events happening in Ukraine it is so wonderful to see the community of Oshawa come together," he said.