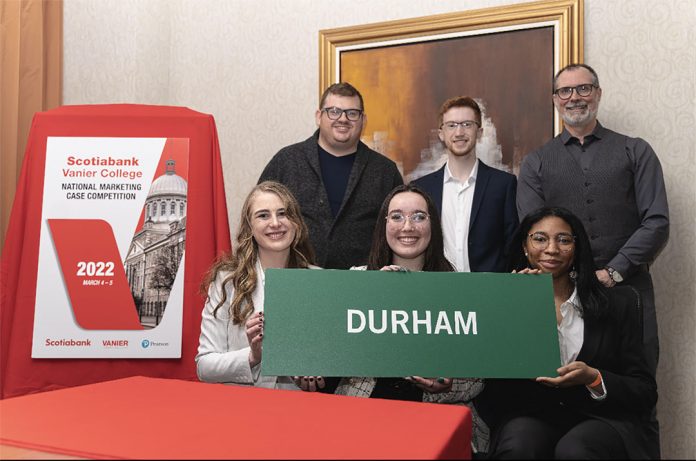 Durham College Business – Marketing students took home bronze at a marketing case competition in Montreal this semester.

After being given their case, the students were given three hours in isolation with no Wi-Fi or cell phones. They only had access to pens, their case and a laptop that only gave them access to PowerPoint.
They had three hours to create a marketing pitch for Millennia Tea Incorporated, a frozen tea that is not found on store shelves, but rather in store freezers.
The students started preparing for the competition in March back in late January.

Students Hana Kennedy and Elizabeth Wheeler, along with their teammates, spent a lot of time being coached by professors Jonathan Carrigan and Sheldon Koufman.
The team practiced similar scenarios to the one they were given at the case competition. Memorization played a big role when it came to remembering prices and important numbers.
"At the beginning when we first started, we were using resources we knew we weren't going to have during the case," said Kennedy, "so by the end of it we had to wean ourselves of using the internet to look up certain information."
By the time of competition, they were able to solely use PowerPoint and the case they were given to solve and create solutions.
During practices the team simulated scenarios that would be similar to the competition. They met multiple times a week and worked for up to three or four hours each session, taking the feedback from their coaches and applying it to become better.
Wheeler said the case competition is a great way for students to get a feel for the marketing industry, as well as use skills they learned in the classroom and take it into the real world – skills like thinking fast on their feet and creative thinking.
Koufman said competitions give both students and professors an opportunity to see their hard work play out.
He said only a certain amount of classroom work can help out a student. It's about taking that work and using it in everyday situations.
"Our goal as faculty members is to develop students from a skills and knowledge perspective, that they are really ready to go have successful careers in their field," said Koufman, "but to also have the soft skills, the ability to network and to deal with adversity."
Kennedy said it was a useful experience for her and her teammates.
"It gives us a good opportunity to not only connect with business professionals in the marketing industry," she said, "but it also gives us good experience and allows us to fine tune some skills that we don't necessarily need to use in the classroom."
She said the students have developed into leaders and role models for others as they went through this journey.
Wheeler's advice for other business students is to "go for it."
"It's a great experience and you're going to take a lot back, listen to your coaches… embrace it," said Wheeler.