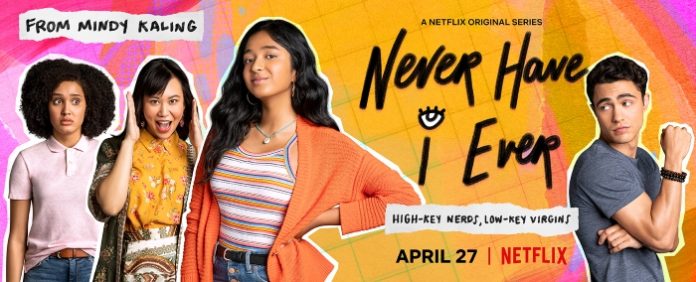 The show Never Have I Ever, which released its first season on April 27, 2020, is about an American teen dealing with usual teenage drama such as popularity, boyfriends and problems with parents – the usual.
This show is about 16-year-old Devi Vishwakumar, played by Canadian actress Maitreyi Ramakrishnan. Devi, who is not so close to family relatives, goes through teenage issues and struggles with her Indian-American identity as the only Brown girl at her school.
In season one, Devi struggles in the wake of her dad's death after he collapsed and died from a heart attack during Devi's orchestra performance. A week later, Devi loses feelings in her legs and lands in a wheelchair for three months. This changes when she sees Paxton Hall – her high school crush. She gets the feeling back in her legs and is back on her feet while checking him out. This happens just in time for sophomore year.
Deciding not to be labelled as a weirdo and as the girl who lost her dad, Devi makes a resolution: to become cool, have a boyfriend and have sex.
Devi goes on to complete her resolution with her two best friends, Fabiola and Eleanor. The show also captures Devi's Indian heritage and what it is like living as a Brown girl, in a Brown family, in white America.
This show is a good representation of the Brown community – so good that viewers and a few celebrities have endorsed it, including Patriotic Act host, Hassan Minaj, claiming the show is a "classic."
Though the first season did well to avoid stereotypical representations of Brown people, some of Devi's experiences did not resonate with all Brown people.
Something you notice in this show is that Devi has a lot of privileges. She and her family are not struggling financially and she is also able to go to therapy. Just being able to talk to someone about grief is so unseen in the Indian community that it was quite surprising this was part of the plot.
The first season of Never Have I Ever represented how Indian families are, especially the acting of Devi's mom, Nalini, as a typical Brown mom, but some scenes definitely showed a lot of privilege and ways Devi acted which most Brown kids would not be able to do.
Imagine calling your mom the B-word and the only thing your mom does is get mad and passive-aggressive over making bagel bites when your friends are over. That is what happened between Devi and her mom Nalini. It's surprising Devi was even allowed to have friends over after saying such a thing to her mom.
The most typical thing that would have happened would be either Nalini disowning her daughter or grounding her, which would also mean not hanging out with anyone. That would have been more accurate.
Luckily, the second season was able to do even better than the first.
The Never Have I Ever series on Netflix did not disappoint when showing the life of Indian families in America but a few representations of Brown people in season one could have been better.
It is definitely worth the watch.