Daniel Crosmas is Mohawk from the Bay of Quinte. He is a teacher, an activist, an artist, and a natural-born storyteller. He teaches at Oshawa's Living Room Community Art Studio and is the co-chair of Indigenous Relations at the Community Diversity, Equity and Inclusion Committee in Oshawa.
In the '80s, Crosmas studied Computer Support/Business at the Toronto School of Business and Technology, where he achieved an Honours Diploma. After finishing the course, he worked at the Canadian Imperial Bank of Commerce (CIBC) as a call centre operator. As he got promoted, Crosmas learned about the legal processes of real estate law and became a legal administrator.
However, his devotion to represent the First Nations community made Crosmas feel closer to his Mohawk family and traditions.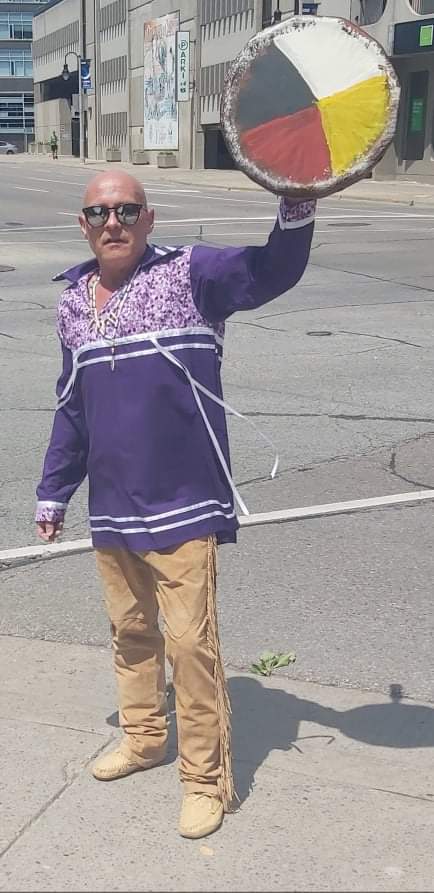 "I knew in my heart that I still loved them," he said, "I love what they taught me. I loved how they treated me. The Mohawks are very much supportive. I have passion for them."
In 2015, Crosmas saw a window displayed, and he was amazed by Oshawa's Living Room Community Art Studio. This not-for-profit atelier provides opportunities for people to make and share art for free or very low cost. The main point is to develop community wellness through art.
"I had become a teacher when I started going to the studio as an Indigenous partisan. So, it was a bit of an honour for me," he said.
He teaches and shares his dedication to arts with whoever may have a question regarding First Nations. He talks about Kanyen'keha:ka, more commonly known as Mohawk people.
"No matter which group I spoke to, whenever I had an appropriate platform, I was enabled to raise serious questions or just teach about (how) amazing the Mohawk tradition is, talk (about) our people, our forests and our lakes," he said.
Founder of Oshawa's Living Room Community Art Studio, Mary Krohnert, analyzes Crosmas's performance as a teacher.
"I see Daniel's commitment (is) so immersed in this project. There is a discipline there. For example, when we had our physical space or gathered virtually, Daniel's presence is so authentic when he teaches," she said.
In early 2019, Crosmas started to schedule meetings with Oshawa's city councillors with the intention of his voice being heard. He met with Counsellor Rosemary McConkey, and she told him about the Community Diversity Equity and Inclusion Committee (C.D.E.I.C.).
Crosmas immediately applied for the interview. And, after being shortlisted for the final interview, he was hired because of his expertise.
Today, Crosmas is Co-chair of Indigenous Relations at C.D.E.I.C. The daily task is to engage in education, resolve, and address issues regarding the First Nations groups, representing people in poverty and people with disabilities in Oshawa.
"I would like to be always at the front line of treating our most vulnerable citizens with dignity, respect and inclusion," he said.
Every month, C.D.E.I.C. schedules a meeting. When their members find a consensus, they declare a motion that passes to the City Council to consider ratifying.
As an example, in Sept. 2020, Crosmas suggested renaming Bagot Street in downtown Oshawa, Ont.
Also, Crosmas raises awareness about the Truth and Reconciliation Commission of Canada and creates a "sense of justice that needs to be answered in the sense of accountability."
"I am looking forward to a time when, perhaps, the truth is totally embraced and listened to by everyone. With the truth, especially in the case of Indigenous peoples and their kids were killed. Now, they are calling them unmarked graves. These are not unmarked graves. These are crime scenes," he said.
As an artist and natural-born storyteller, Crosmas combined the responsibility with the C.D.E.I.C. and Oshawa's Living Room Community Art Studio to carry on the customs from Mohawk's ancestors.
"I feel it is my duty to learn my language. To learn the traditions (and) the customs," Crosmas said. "All my work toward to have the reparations. So, I am just happy to be a small part of that process."