EDITOR'S NOTE: Warning, this story contains details of violence some readers may find disturbing.
Adam Strong has been found guilty in the killings of Rori Hache, 18, and Kandis Fitzpatrick, 19, on Tuesday.
Strong's sentencing hearing is scheduled to begin April 21.
Justice Joseph Di Luca convicted Strong, 48, of first-degree murder in the death of Hache, manslaughter in the death of Fitzpatrick.
Fitzpatrick went missing in Oshawa in 2007. Her body was never recovered. Hache went missing in 2017. Fishermen found her torso floating in Lake Ontario weeks later.
While the initial search yielded no results, police were alerted to Strong's involvement in December, 2017, when a plumber found human remains in the pipes of Strong's basement apartment at 19 McMillan Dr. in Oshawa.
Di Luca reiterated for the court that when the police arrived Strong admitted to having a body in the house saying, "The gig is up. You got me. It's a body." He did not confess to the murder.
The resulting search of Strong's home uncovered the rest of Hache's remains stored in a freezer in his bedroom.
Despite the 10-year gulf between the disappearances of the two women, police also found Fitzpatrick's DNA on a knife in Strong's home, as well as in the freezer. Di Luca noted the Wyoming knife found is specially designed for cleaning hunted animals. Strong noted in his interrogation by Det. Paul Mitton of Durham Regional Police that the knife was "damning evidence" against him.
Meanwhile, Strong made several comments, including he was "holding his cards" for a deal, from which Di Luca inferred Strong's guilt.
In a news conference outside the courtroom, Hache's mother, Shanan Dionne, said, "You've executed your own ass. You put yourself in jail. You admitted. You confessed. You're holding back cards, you've got cards, you're not playing cards. This isn't a poker game. This was two little girls' lives."
Di Luca read his 75-page judgment to a full, but social-distanced courtroom at the Ontario Superior Court in Oshawa. Nearly 50 others observed the proceedings over a video conference from an overflow room.
During the presentation, Di Luca explained the evidence in depth. It took six hours to read the judgment. All the evidence presented led Di Luca to conclude Hache's death took place in the midst of a sexual assault, which assured a conviction of first-degree murder.
He also concluded Hache was most likely killed by blunt force trauma to the head. A cause of death had previously been ruled as inconclusive by pathologists, but Di Luca said those opinions were not taken in consideration of the "totality of the evidence."
The conclusions were met with applause by the assembled crowd.
Given the time passed since her death, and the resulting lack of evidence, the same evidence was not present in Fitzpatrick's case. Di Luca said he could not be sure beyond a reasonable doubt Strong had murderous intent at the time. However, he said it was clear to him Fitzpatrick's death was a direct result of Strong's actions, which resulted in the manslaughter conviction.
Family and supporters reacted with disappointment to that decision. Fitzpatrick's father Bill stormed out of the courtroom immediately.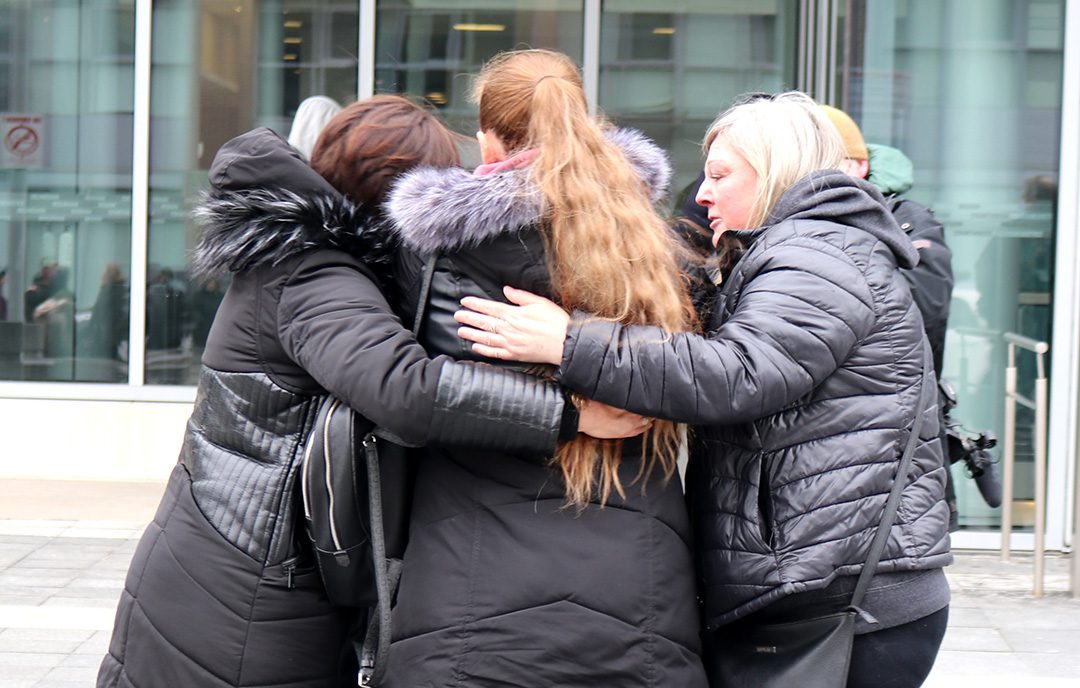 Hache's godmother, Krysia Meeldyk, told the news conference: "I went in(to) this pretty confident. If there's anything I've learned in the last three years of this diabolical vortex and abyss is that I shouldn't be confident, because it's the nightmare that keeps on giving. I'm very sad for the Fitzpatrick family today."
Strong will be sentenced in a two-day hearing starting April 21. He faces a minimum sentence of life in prison for the first-degree conviction. He will not be eligible for parole until he is at least 73.