Picture this, you're in your early college days at a house party. In the corner of the room, a group of drunk, maybe legal adults are overly invested in beer pong. You get the chance to queue the next song, but the overwhelming stress of keeping the vibes right looms over you.
Luckily, the song you chose was universally liked. This wouldn't be the case if you picked a song from JPEGMAFIA and Danny Brown's new EP, "SCARING THE HOES: DLC PACK," but that's the point.
This EP acts as a perfect extension to the original album that came out in March.
The name plays on the joke that alternate rap fans scare everyone away when they play their music, and this project perfectly captures that type of sound. It's not meant for a party scene.
The DLC PACK adds four songs to the STH tracklist, "Guess What Bitch, We Back Hoe!," "HERMANOS," "Tell Me Where To Go," and "NO! NO! NO! NO! NO! NO! NO! NO! NO! NO! NO! NO! NO! NO! NO! NO! NO! NO! NO! NO! NO! NO! NO! NO! NO! NO! NO! NO! NO! NO! NO! NO!"
All four are included in a hallucinogenic 16-minute music video that carries the same energy as the songs. Using visual effects of glitches and flashing lights, the video feels like a computer virus that you wouldn't want to delete.
The first song starts with a typical JPEG beat that his fans would be used to. Brown opens first, but while his lyrics aren't bad, they take a back seat to his word-flow mixed with the production. Especially 30 seconds in when the beat changes slightly, the song gives you the energy to get involved in a high-speed chase.
JPEG, also known as PEGGY to his fans, continues to keep the energy up for the rest of the song before it ends with the hook from Brown one more time. It then slows down the beat for the transition into the next track.
The title of the piece which translates to siblings, starts off with Brown again, but he felt a bit out of place. It didn't ruin the song, but it was outshone by PEGGY's verse which sounded symbiotic.
Sometimes in-depth rhymes can sound corny in modern songs, but in this case, it sounded very natural. He uses clever wordplay that would make any Martin Scorsese fan happy.
JPEG didn't just casually name movies Scorseses directed like "Goodfellas" and "Casino." He wrote it into unrelated, but connected lyrics.
PEGGY did this while also including Al Pacino, Robert De Niro, and Sam Rothstein, De Niro's Character in "Casino."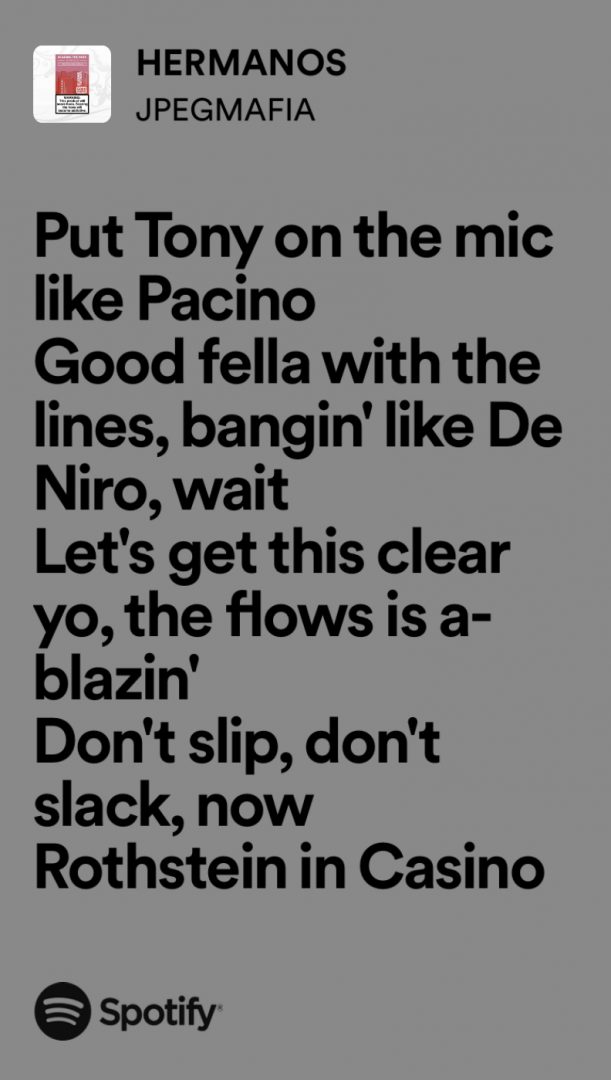 The lyrics of the song end with about a minute and a half remaining, but the crescendo is still left. Letting the sample play out while overly producing is normally just lazy. But the way it's done with the distorted 808s and bells leaves the listener in a euphoric state.
"Tell Me Where To Go" is a complete 180 from the ending of the last song. Made with a very laid-back beat, both Brown and JPEG float with their lyrics very easily. It culminates in a very personal-sounding song, perfect for a late-night drive
The EP's closer which is 31 words too long, is a roller-coaster of a journey. Using a gospel sample that sounds almost angelic, the typical PEGGY and Brown bars feel sinful to combine. However, in this case, it's worth it.
Throughout the track, the instrumental does take the front seat which causes you not to focus on the words as much. But 3 minutes in when a beat switch sounds like it's incoming, the listener gets left questioning as Brown goes a cappella.
The delivery throughout this segment is funny, but it does sound out of place. Considering that this extension was only four songs and this part takes up a significant part of the last track. A separate version without the addition wouldn't hurt.
Overall this project acts as a great sequel to the original album, but it's nowhere close to outshining it. It's part of a genre that is definitely an acquired taste and it's almost guaranteed to never touch a radio station's tracklist.
There's beauty in that though.
JPEGMAFIA and Danny Brown delivered, and their niche fan base can rejoice, by themselves because everyone else got scared away.