Four top-level sledge hockey players competed in wheelchair curling at the 2023 Ontario Parasport Games in Oshawa, Ont.
Team Gale, led by skip Heather Gale, was introduced to the sport of wheelchair curling by their coach Kelvin Johnston four months ago.
"We are brand new to the sport this year," Johnston said. "I'm [taking] sledge hockey players who have competed at the highest level – two have played for Team Canada and one for Team Ontario – and I'm trying to turn [them] into wheelchair curlers."
Despite joining the game recently, the team has already faced fierce competitors.
Johnston said, "Over our first four events, we've already played Team Canada, Team Scotland, and Team Nova Scotia. We've had some great competition right off the start."
In addition to being one of the newest teams to the sport, Team Gale is also one of the youngest. According to Johnston, most teams have an average age of 60, while his team is in their 30s.
An age gap, he says, that has wheelchair curling teams and organizers excited.
"Our team looks a lot different than the other teams in terms of age," said Johnston. "I think that's exciting for people who've been here for a long time because they are trying to get more people into curling."
Gerry Sundwall, 76, officiates curling events across Canada and directed the wheelchair curling competition at this year's games.
He said organizers are working hard to grow the sport at all levels, but they are focused on recruiting young people with the potential to play for the rest of their lives.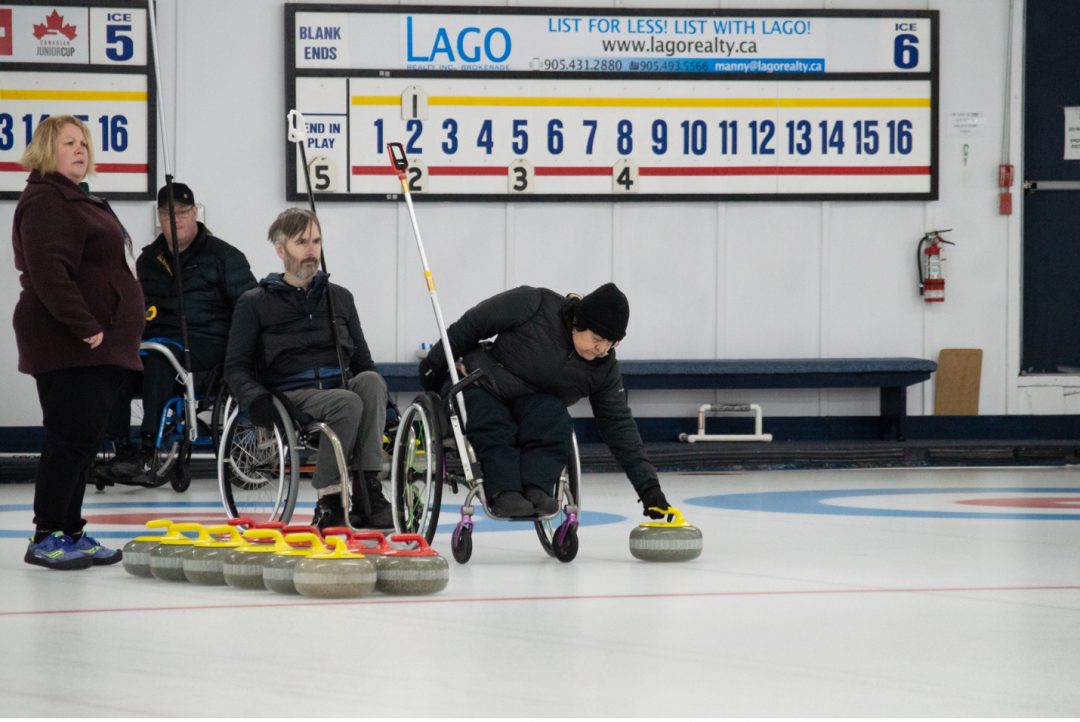 "Curling is the best sport in the world," Sundwall said. "We accept all [new]comers regardless of race, creed, or age. Everyone's welcome."
According to Curling Canada, wheelchair curling is "open to anyone with significant impairments in lower leg function and usually requires a wheelchair for daily mobility."
Skip Gale said her team did not expect to love the sport but gave it a chance because of their coach. After their first tryout, they fell in love with the game and started the team.
Since then, the competitors have been nothing but welcoming, according to Gale.
"The encouragement from everybody has been wonderful," Gale said, "and definitely makes us want to continue. It's out here in the club, and it's out there on the ice, too."
Gale said during their first match of the day, their opposing skip, Chris Rees, gave reassurance and suggestions throughout the game.
"He'll do that once they're beating us by a sufficient amount, which is fair, but they want to see us get better."
After a close first end, with Team Gale taking two points, Team Rees caught up and won the game 10 – 2.
Going forward, Gale said her team aims to adapt their game and improve, with an eye toward Nationals in four years.
Team Gale and coach Johnston hope to inspire more young players to take up curling.
"As the team of 30-year-olds, and sledge hockey players, our goal is to attract more sledge hockey players to come out and play the sport," Johnston said.
"If you are somebody who has never tried an adaptive sport, and you have a disability, and there is some kind of a 'try curling' event around you, just try," Gale said. "There are so many avenues to go by, and everyone's always looking for new teams."