Susan Byrne comes from a big family in Newfoundland. She has over 30 first cousins, 12 aunts and uncles on her dad's side, and a great-aunt with 21 children, but she didn't know much about her heritage.
Her grandmother "never spoke about it" and her father didn't have a lot of information.
Like many Indigenous people in Canada, Byrne, 43, is connecting with her culture through art.
"I decided that I wanted more," Byrne said. "I wanted to know more. And so, my journey began, diving a little bit deeper to discover who our people were."
In 2016, she took part in a program called "Learning from the Knowledge Keepers" in partnership with the University of Cape Breton in Nova Scotia, and then things "laid dormant for quite a few years."
Then in 2019, a catastrophic workplace accident forced her to take a year off to heal and think.
Byrne said, "I started to get slowly more entrenched in community and part of my healing journey as now a person living with a disability."
She attended events and gatherings around Durham Region, eventually meeting a distant cousin, Troy White, who "changed everything" with a question, "Who are you?"
White said, "You are Irish. You are English. You are Mi'kmaq, and you are strong, and you belong here."
According to Byrne, Durham Region is home to predominantly people with Ojibway, Mohawk, and Seneca backgrounds, but "there are more and more Mi'kmaq people who feel comfortable coming forward."
Byrne said she's had "the best of both worlds" learning about her heritage in Durham and out East.
"You get to be embraced by a community who's willing to share their knowledge," she said. "But then I get to share the knowledge of my community as I'm learning it to say, 'Hey, this is what we do a little bit differently'."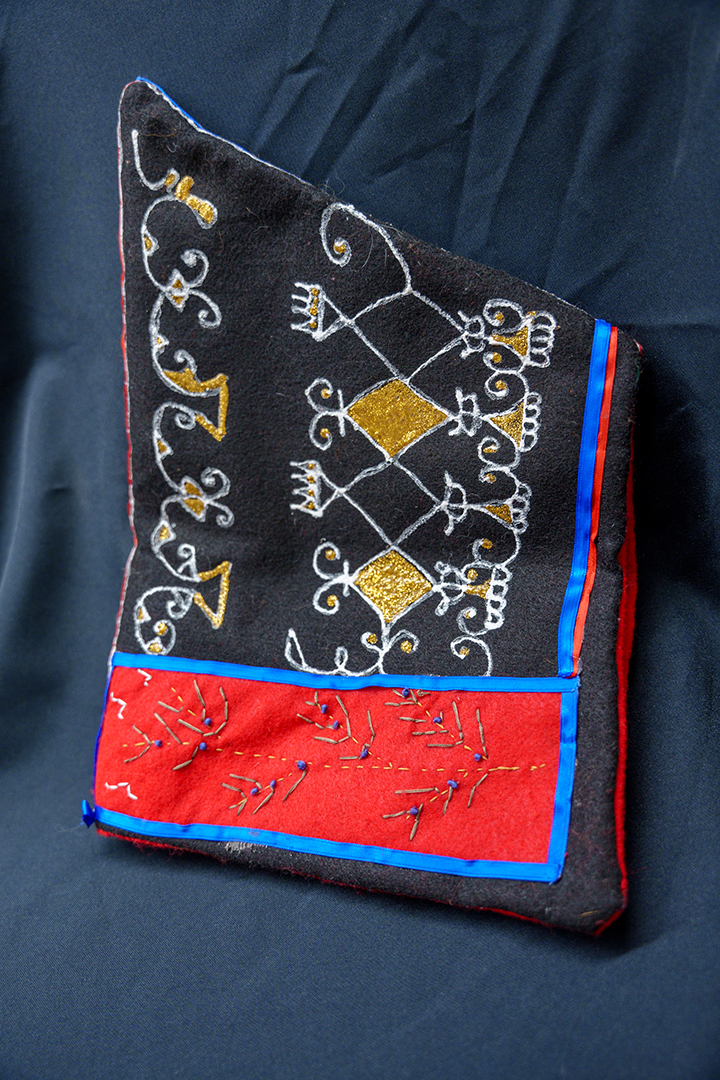 In one example, Byrne said East Coast traditional clothing is "very different [from] what they are here in Ontario."
"A lot of our cloth was given to us by the colonialists," she said. "A Mi'kmaq woman would wear a very pointed hat that's very highly embroidered. She would wear a coat that would have red on the sleeves that would be very embroidered."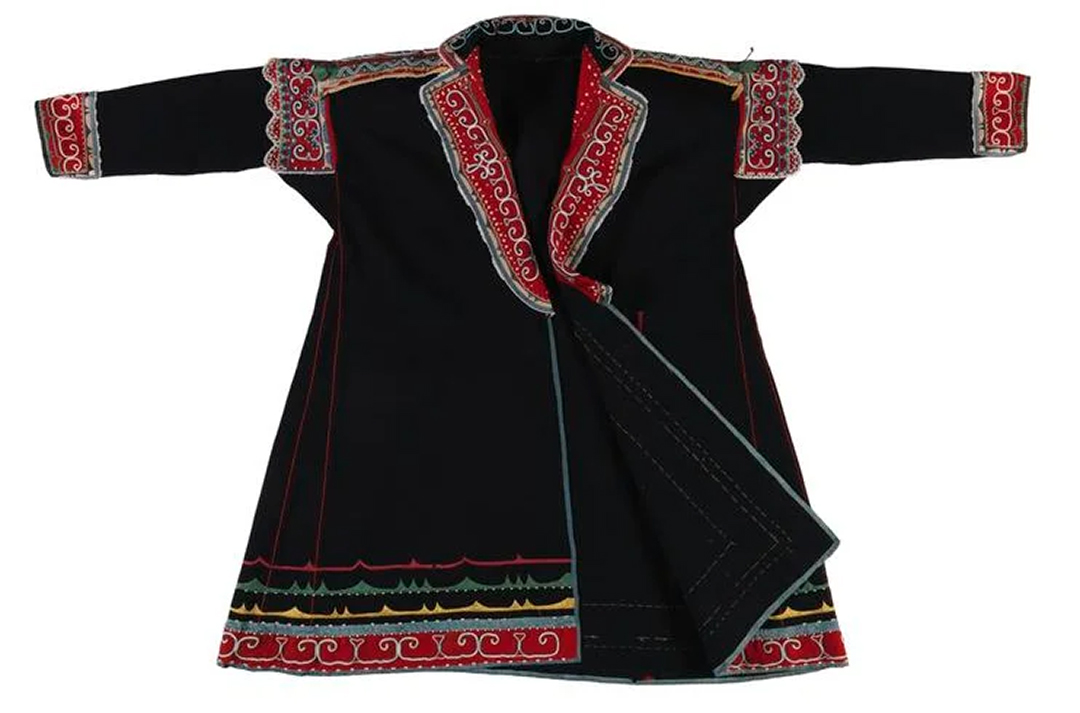 Byrne is now the vice-president of Bawaajigewin Community Circle in Oshawa, working alongside President Mary George, and she's using art to help more young people connect to their culture.
On Oct. 18, Bawaajigewin started their first sewing workshop, teaching young people the fundamentals of sewing by making a bundle blanket to prepare them to make their own traditional clothing items.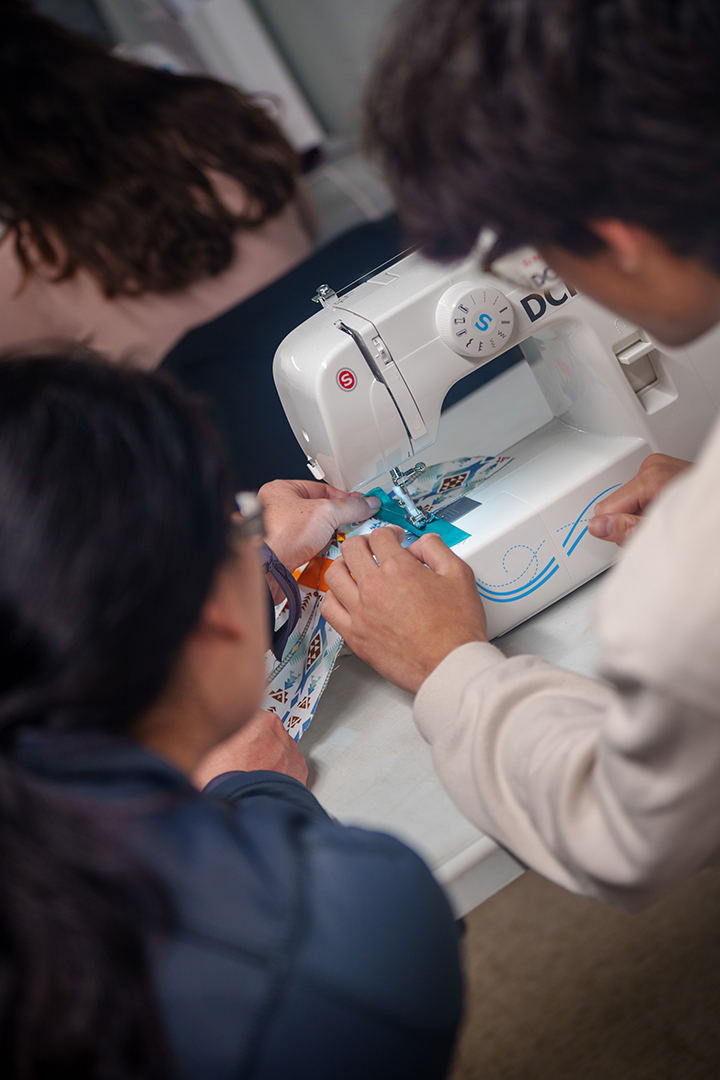 With Durham Community Health Centre, formerly Carea, Byrne is participating in events to sew leather mitts.
"You've got men, you've got ladies, and we're all sitting there," Byrne said. "You've got those of us who have sewn quite a bit, some people who've never touched a piece of leather at all."
Byrne said crafting is also a time for healing.
She said, "Because a lot of our Indigenous artists are residential school survivors or Sixties Scoop survivors, and art has really brought them from a very dark place where they can start their healing journey through their hands."
And it's an essential way to share knowledge.
"It's a form of communication when you touch that beading and when you see the stitching," Byrne said. "You're able to feel the story that comes through that piece. And a lot of what we make, we gift to others. It's very rare that you'll hold on to a piece that you make."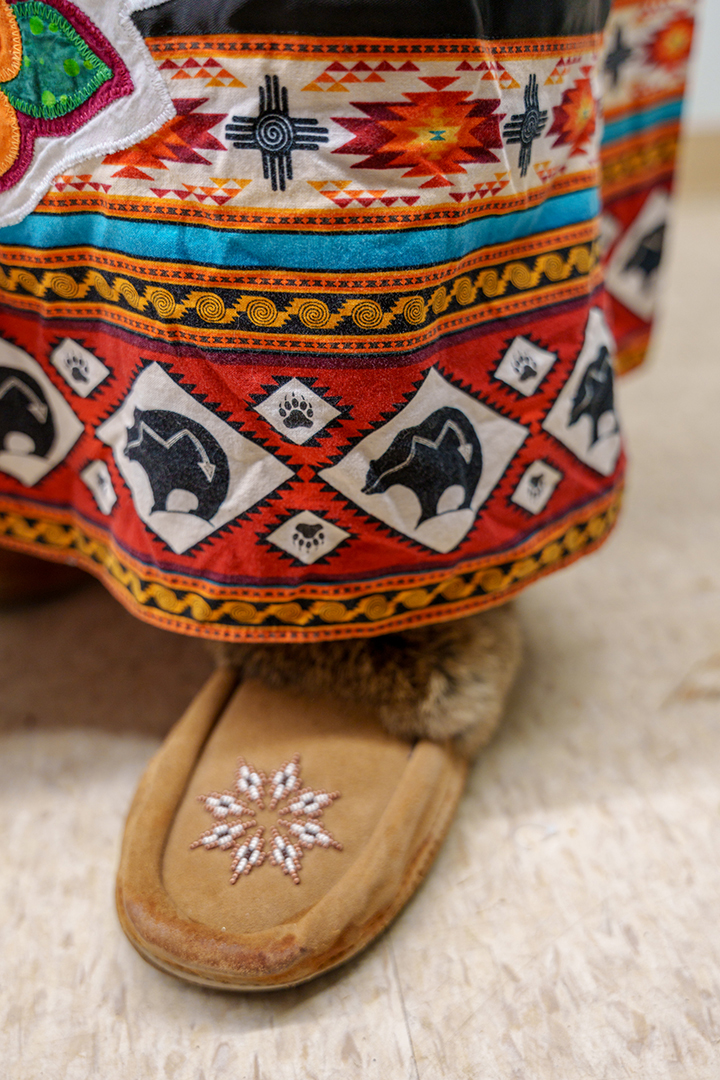 Byrne said she received her ribbon skirt as a birthday gift from her mother, who "identifies as a woman of British descent," and designed by Sandra Moore in Hiawatha.
She said, "When I saw my ribbon skirt, it was from somebody who was non-Indigenous who knew me so well because she gave me life that she was able to pick out something with just having a conversation with Aunty Sandra. It's probably the best gift I've ever received in my life, aside from my drum."
Recently, Byrne had the chance to gift a ribbon skirt herself.
After an event, she realized she never saw her colleague, Krista MacNeil, 44, who also identifies as a Mi'kmaq person, wearing a ribbon skirt, and asked her why.
MacNeil said, despite knowing how to make one, "she had never had one," so Byrne got to work.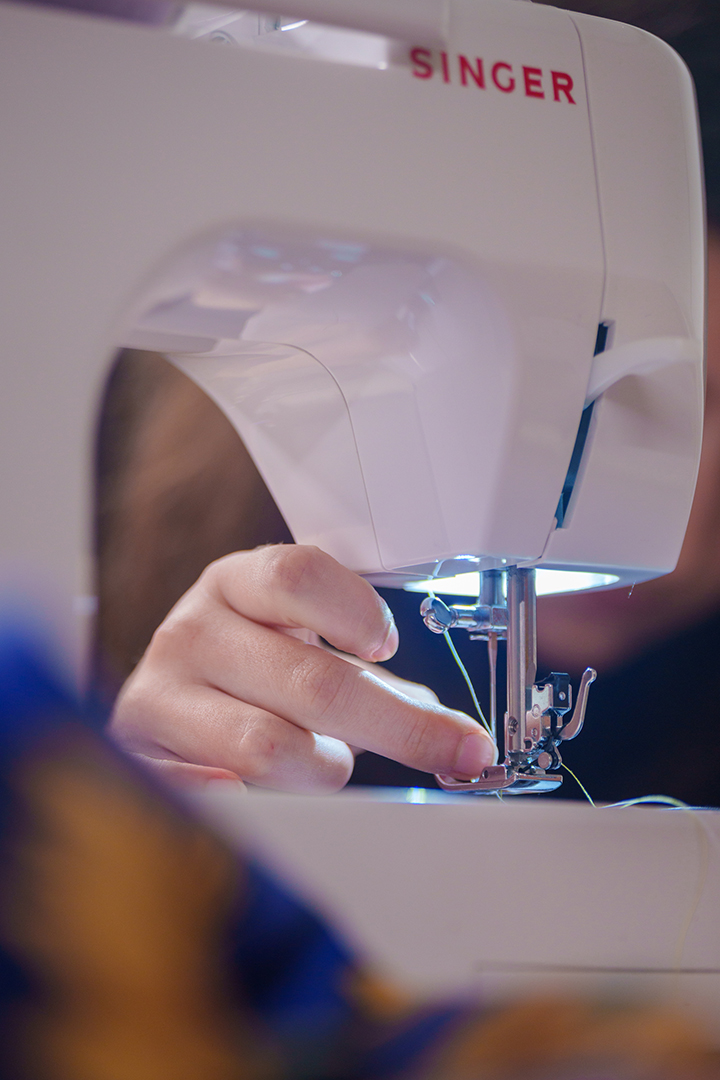 Byrne bought the necessary materials without telling MacNeil, picking "all the fabrics that I felt would represent her," and asked for her measurements, then surprised her with it.
"And that ribbon skirt for me was the best ribbon skirt that I have ever made," Byrne said. "And I actually got to witness Krista wear it on the Day for Truth and Reconciliation on Sept. 30."
MacNeil said she was "really moved" by the gift, and a few weeks later, she was able to make one for her youngest daughter.
She said, "Meeting Susan was really instrumental because she's been really helping me to connect with the community here, which is something I had been missing living in Ontario for the last 20 years."
And this year, Byrne also had the chance to share her culture with her own daughter.
"That was one of the biggest honours that I ever had," she said. "My daughter, my youngest daughter, who has walked her own journey, finally looked at me around May for the Murdered and Missing Women's event and said, 'Mom, I'm finally ready to wear a ribbon skirt.'"
Byrne said making a ribbon skirt is an emotional process. "You're sitting there and you're cutting the ribbons and you're thinking about all the generations who came before you who wore these ribbon skirts."
"And it's a way for us to preserve our culture for our youth"