It's 2021 and you're at one of the biggest music events of the year. The music's blaring, you can barely move, and it seems like chaos, but the good kind. That's until you see a child on the ground, not moving.
You're on your way home and you check your phone, ten children died of asphyxiation at Travis Scott's Astroworld concert. Every outlet, artist, and person with a voice is critiquing Scott, cancelling him from the media and the mainstream.
But fast-forward to 2023, and Travis is performing at Circus Maximus, a concert that caused a magnitude 1.3 earthquake and is now preventing the historical site from ever being used again. Everyone who said he should never have the spotlight again doesn't care, they're listening to his new album, Utopia.
The cancellation of the artist didn't do anything significant, so fans continued to listen once time moved on.
But this isn't the first time this has happened, and Kanye West is a perfect example.
Throughout West's career, there have been multiple instances that caused the media to shun him. Most recently, his statements about the Jewish community had him cast out from everything.
Comments such as "When I wake up I'm going death con 3 on Jewish people," and his praise of Hitler had him lose partnerships with Vogue, Balenciaga, GAP, and Adidas, which was a lifetime partnership.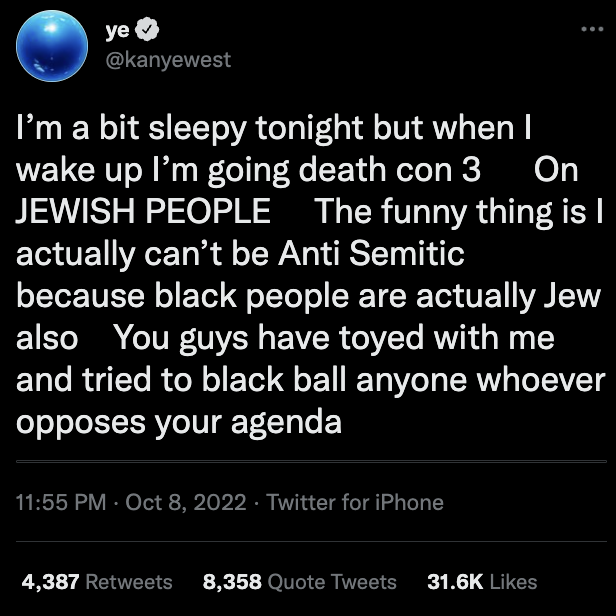 At the time of the incident, his Twitter account was also terminated due to the antisemitic images he posted.
Despite all of this, Kanye is pulling in 58.2 million monthly listeners on Spotify, an all-time high for him. Additionally, Balenciaga had West open for their 2023 Spring Show, and he was able to tweet about it with his reinstated account. It seems like he's starting to be back in the spotlight.
But let's look at XXXTENTACION, an artist who was cancelled before he even blew up.
The rapper who is also known as Jahseh Onfroy, has a deep history of domestic abuse allegations, dating back to 2016.
Onfroy's legal trouble followed him until his passing in 2018 with plenty of evidence.
These allegations prevented his songs from being added to Spotify playlists before they removed their anti-hate policy. Additionally, DJBOOTH, refused to review his album "17."
Regardless of this, when his second album "?" came out, it debuted at No. 1 on the Billboard charts. After his passing, recordings of him admitting to the assault were released by Pitchfork magazine, but his popularity continued to grow, and his followup album "Skins" debuted at No. 1.
Again, if we look at the numbers, the cancellation wasn't affecting him long-term.
A more local example for Canadians is Oshawa native Daniel Ceaser.
In 2019, an influencer named YesJulz found herself in the midst of cancel culture for some race-related comments, tweets, and actions.
Ceaser took to Instagram Live to defend his friend, but it led him to being cancelled himself.
One of the things Ceaser said was, "white people have been mean to us in the past… what are you gonna do about that, tell me what you're gonna do about that, there's no other answer other than creating understanding and keeping it moving."
Along with saying "Being a victim doesn't get you paid," he faced a lot of backlash after his rant.
Because of this, many boycotted his 2019 album, "Case Study 01."
Following the release of the album and for the release of his new project, Ceaser went on to apologize for his comments on "Apple Music 1's Nadeska."
After this, it was like nothing ever happened, he sits at 26.8 million monthly streamers on Spotify, and he is one of the biggest artists in Canada.
Even though his actions weren't nearly as bad as Kanye's and X's, all it took was an apology to be forgiven and embraced by the people who wished the worst for him.
These are just a handful of artists who have gone against cancel culture, they are proof that it's irrelevant.
The question of it being ethical to listen to their music is there, but as long as the musician makes an apology and "changes," the public will continue to listen. The internet is a fast-moving place, and people will inevitably forget.
Acknowledging the crimes and controversies that an artist commits is important, but the cancelling that we have in modern society doesn't do anything. If someone wants to blast "Graduation," it doesn't make them a horrible person.