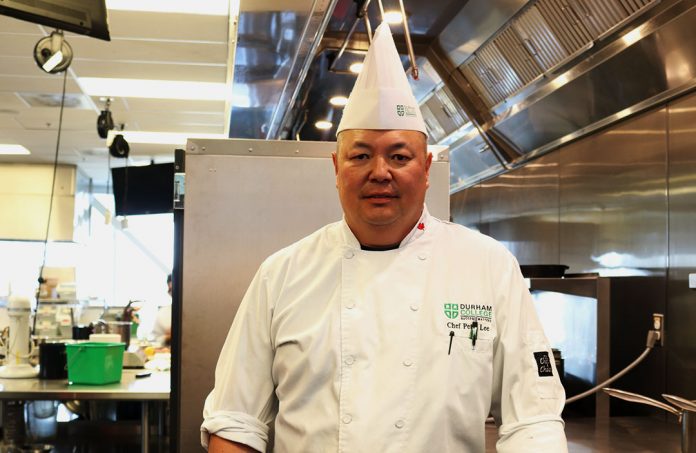 Adreanna Russell, a Culinary Management student at Durham College, has always loved cooking. It brought her family together during special occasions and as a child, she often helped her mother cook Christmas or birthday dinners.

In November 2022, she won first place in the Taste Canada's "Cook the Books" competition held at Cirillo's Academy in Toronto, and now she is planning her future.
For the competition, she worked alongside her peer, Sahil Ahuja, another Culinary Management student whom she had never met before, and their mentor and program coordinator, Peter Lee.
She said that as a woman it was a "little intimidating working with two men." However, being aware of how women are typically treated in the industry, she set her "role as a woman in the industry and let them know where I stand," Russell said.
Ahuja and Russell were carefully picked for this competition, said Lee.
"When we compete in these types of competitions, we usually pick our students, the ones who look the most promising so," he said. "Mentoring them is a lot of fun."
The pair competed against Centennial College, École des métiers de la restauration et du tourisme de Montréal, Fanshaw College, Fleming College, St. Pius X Career Centre, Top Toques Institute of Culinary Excellence and high school Thistletown Collegiate Institute.
Ahuja and Russell chose to work with beef tongue, an unpopular cut of meat, to prepare their winning dish: corned beef tongue with mustard jus, pickled cabbages and glazed carrots.
Durham College encouraged Russell and Ahuja's participation.
"The school was very supportive and gave us the opportunity to get out there," said Russell.
After winning, she said even her school experience had changed.
"Students that I've never met before, students that were in other programs, they would come up to me and Sahil and say like, oh you're the people that won that competition for Durham like, that's awesome, congratulations," she said.
Winning the competition taught Russell two important lessons: organization and timeliness. "Cleanliness is key in the kitchen," she said.
She says the preparations she did for the competition and the 40-minute time limit gave her an upper hand in school and she now has the confidence to finish anything within the allotted time.
The duo won the equivalent of $2,000 worth of prizes as well as an educational bursary of $3,000.
This was Durham College's third time competing and second time winning. Lee says the Culinary Management program intends to compete every year because "it's a good experience for the students." But for Russell, after graduation in this June, she plans to go back to school at Fleming College for nutrition.